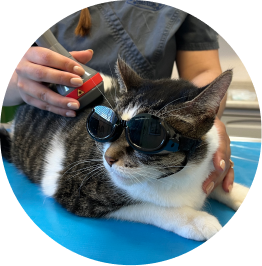 Laser Therapy
Ballston Animal Hospital is excited to offer the many benefits of Class IV Deep Tissue Laser Therapy to our patients. Laser therapy is a surgery-free, drug-free, non-invasive treatment that has been shown to reduce pain, inflammation and speed healing.
How It Works
Using a beam of laser light to deeply penetrate tissue without damage, laser energy induces a biological response in cells which increases blood flow to the targeted area, stimulating the release of pain-relieving hormones.
A non-invasive handpiece is used to deliver the laser light to the affected area. It works by delivering the laser light through a noninvasive handpiece to treat the affected area. Your pet may feel gentle and soothing warmth during the treatment, which can last 3-30 minutes depending on the size of the treatment area and the condition being treated.
Conditions Treated
Laser therapy has been scientifically proven to be successful in treating post-surgical pain and many acute and chronic conditions, including:
Wounds, cuts, and bites
Allergies
Infections
Inflammation
Pain relief from surgery and tooth extractions
Post-surgical healing
Sprains, strains, and fractures
Degenerative joint disease
Inflammatory bowel disease,
Periodontal disease
Lick granulomas
Geriatric issues
Hip dysplasia
Feline acne
Tendonitis and arthritis
Otitis (ear disorders)
To find out if laser therapy might help your pet, schedule a consultation online or by calling 703-528-2776.